Premium Tesla Paint Protection Raleigh NC Service
Ceramic Pro Raleigh offers comprehensive paint protection packages to enhance the appearance and longevity of Tesla vehicles. Their skilled technicians provide long-lasting protection against environmental damage, while their range of packages allows customers to choose the level of protection that suits their needs and budget.
Tesla Ultimate armor package
AVAILABLE ONLY AT ELITE DEALERS
The ONLY Full Vehicle Appearance Package With A LIFETIME WARRANTY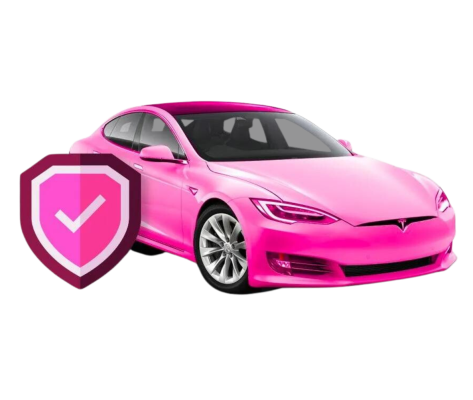 KAVACA Paint Protection Film
Phenomenal Detailing is renowned for its expertise in automotive care, and they recently showcased their exceptional skills by performing a flawless installation of KAVACA paint protection film on a stunning Tesla vehicle. With meticulous attention to detail, we ensure that every curve and contour of the Tesla's body was meticulously covered with the high-quality KAVACA film, providing an unrivaled level of protection against chips, scratches, and other environmental hazards.
Our skilled technicians employed industry-leading techniques and state-of-the-art equipment to achieve a seamless, virtually invisible finish that enhanced the Tesla's aesthetics while preserving its original paintwork. Thanks to Phenomenal Detailing's dedication to excellence and their partnership with KAVACA, Tesla owners in Raleigh can confidently safeguard their prized vehicles with this remarkable protection film.

Our Tesla Paint Protection Film Packages
Top Rated Ceramic Coating Installers in Raleigh NC
At Phenomenal Detailing in Raleigh, NC, we take immense pride in our ability to deliver exceptional installations of Ceramic Pro ceramic coating, specifically designed for Tesla vehicles. As passionate Tesla enthusiasts ourselves, we understand the desire for both protection and beauty for these remarkable electric vehicles. That's why we offer our clients the opportunity to experience the pinnacle of automotive protection with Ceramic Pro specifically formulated for Tesla models.
With our meticulous attention to detail and expertise, we ensure that every surface of your Tesla is flawlessly coated, creating an invisible shield that provides unparalleled resistance against UV rays, harsh weather conditions, and contaminants. The result is a breathtaking glossy finish that not only enhances the aesthetics of your Tesla but also simplifies maintenance, making it easy to keep the surface clean and pristine. As a trusted partner of Ceramic Pro and passionate about Teslas, we are committed to delivering nothing short of perfection for your prized electric vehicle. Trust us to provide your Tesla with unmatched protection and a showroom-worthy shine that will turn heads wherever you go.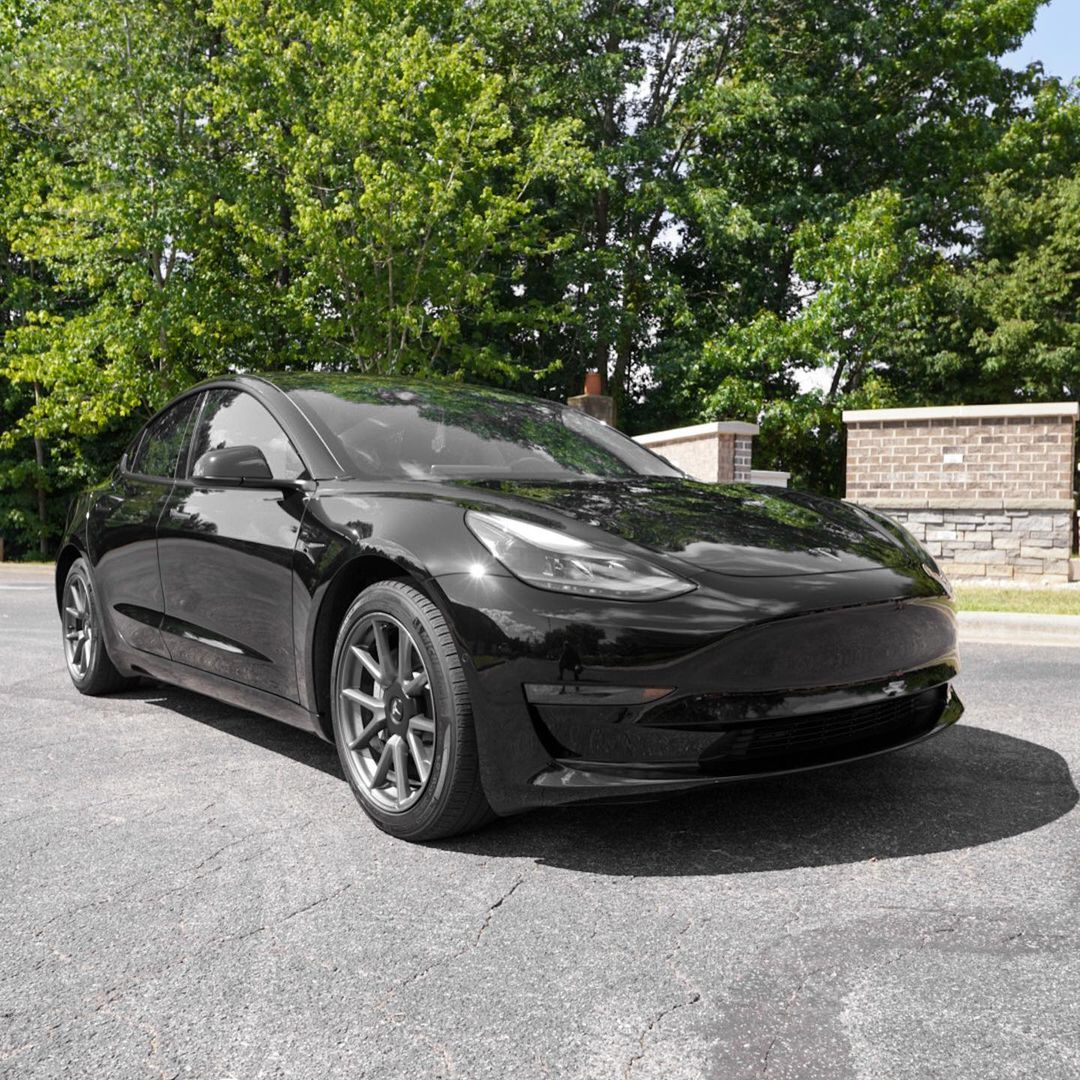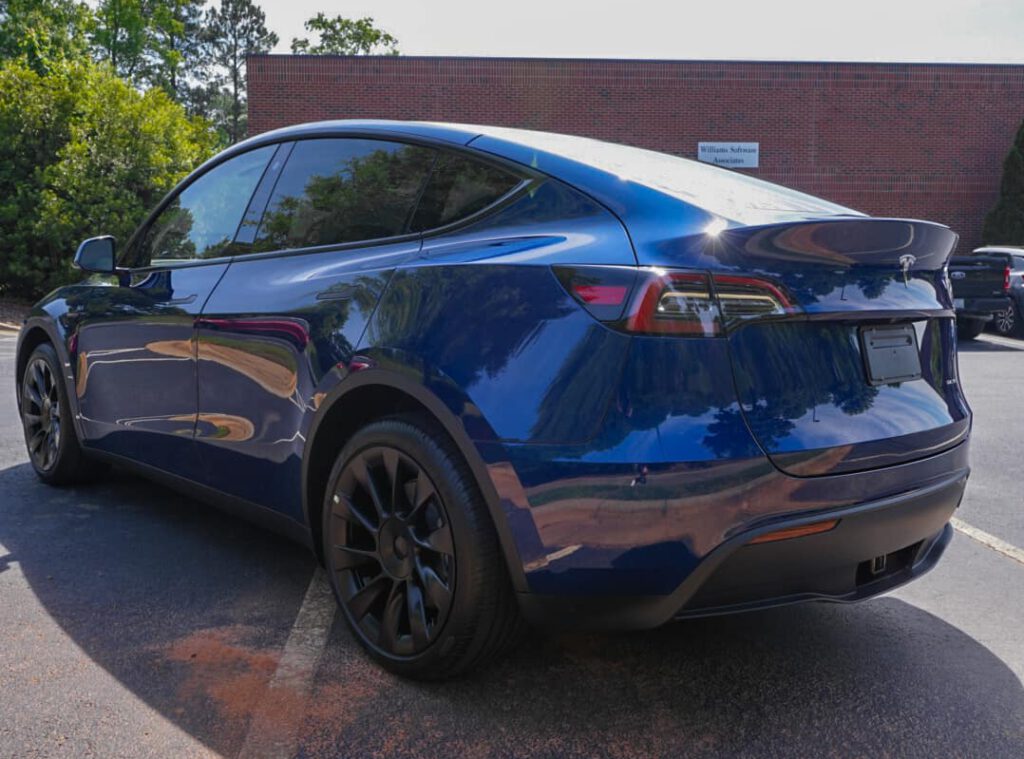 At Phenomenal Detailing in Raleigh, NC, we take great pride in offering top-notch services to Tesla owners, and one of our specialties is the impeccable installation of KAVACA window tint. When it comes to protecting your Tesla's interior from harmful UV rays and reducing heat buildup, KAVACA is the go-to solution.
Our skilled technicians are well-versed in the precise application of this premium window tint, ensuring a flawless finish on every window. With KAVACA, not only do you enjoy enhanced privacy and a sleek, stylish look, but you also experience improved comfort during those hot summer days. We understand the importance of preserving the integrity of your Tesla while enhancing its overall aesthetics, and our commitment to perfection is evident in every KAVACA window tint installation we perform.
So, if you're in Raleigh and seeking the best window tint solution for your Tesla, trust Phenomenal Detailing to deliver outstanding results that will exceed your expectations.
Contact Us Today
If you are looking for Ceramic Coating, Paint Protection Film, and Window tinting in Raleigh, NC, contact our team today! We will happily answer any questions or provide more information on our services. Let us help make your vehicle look its best with our services.
Tesla Paint Protection Raleigh NC Tesla Paint Protection Raleigh NC Tesla Paint Protection Raleigh NC Tesla Paint Protection Raleigh NC Tesla Paint Protection Raleigh NC Tesla Paint Protection Raleigh NC Tesla Paint Protection Raleigh NC Tesla Paint Protection Raleigh NC Tesla Paint Protection Raleigh NC Tesla Paint Protection Raleigh NC Tesla Paint Protection Raleigh NC Tesla Paint Protection Raleigh NC Tesla Paint Protection Raleigh NC The The The The The The The The The The The The The The The The The The The The The The The The The The The The The The The The The The The The The The The The The The The The The The The The The The The The The The The The The The The The The The The The The The The The The The The The The The The The The The The The The The The The The The The The The The The The The The The The The The The The The The The The The The The The The The The The The The The The The The The The The The The The The The The The The The The The The The The The The The The The The The The The The The The The The The The The The The The The The The The The The The The The The The The The The The The The The The The The The The The The The The The The The The The The The The The The The The The The The The The The The The The The The The The The The The The The The The The The The The The The The The The The The The The The The The The The The The The The The The The The The The The The The The The The The The The The The The The The The The The The The The The The The The The The The The The The The The The The The The The The The The The The The The The The The The The The The The The The The The The The The The The The The The The The The The The The The The The The The The The The The The The The The The The The The The The The The The The The The The The The The The The The The The The The The The The The The The The The The The The The The The The The The The The The The The The The The The The The The The The The The The The The The The The The The The The The The The The The The The The The The The The The The The The The The The The The The The The The The The The The The The The The The The The The The The The The The The The The The The The The The The The The The The The The The The The The The The The The The The The The The The The The The The The The The The The The The The The The The The The The The The The The The The The The The The The The The The The The The The The The The The The The The The The The The The The The The The The The The The The The The The The The The The The The The The The The The The The The The The The The The The The The The The The The The The The The The The The The The The The The The The The The The The The The The The The The The The The The The The The The The The The The The The The The The The The The The The The The The The The The The The The The The The The The The The The The The The The The The The The The The The The The The The The The The The The The The The The The The The The The The The The The The The The The The The The The The The The The The The The The The The The The The The The The The The The The The The The The The The The The The The The The The The The The The The The The The The The The The The The The The The The The The The The The The The The The The The The The The The The The The The The The The The The The The The The The The The The The The The The The The The The The The The The The The The The The The The The The The The The The The The The The The The The The The The The The The The The The The The The The The The The The The The The The The The The The The The The The The The The The The The The The The The The The The The The The The The The The The The The The The The The The The The The The The The The The The The The The The The The The The The The The The The The The The The The The The The The The The The The The The The The The The The The The The The The The The The The The The The The The The The The The The The The The The The The The The The The The The The The The The The The The The The The The The The The The The The The The The The The The The The The The The The The The The The The The The The The The The The The The The The The The The The The The The The The The The The The The The The The The The The The The The The The The The The The The The The The The The The The The The The The The The The The The The The The The The The The The The The The The The The The The The The The The The The The The The The The The The The The The The The The The The The The The The The The The The The The The The The The The The The The The The The The The The The The The The The The The The The The The The The The The The The The The The The The The The The The The The The The The The The The The The The The The The The The The The The The The The The The The The The The The The The The The The The The The The The The The The The The The The The The The The The The The The The The The The The The The The The The The The The The The The The The The The The The The The The The The The The The The The The The The The The The The The The The The The The The The The The The The The The The The The The The The The The The The The The The The The The The The The The The The The The The The The The The The The The The The The The The The The The The The The The The The The The The The The The The The The The The The The The The The The The The The The The The The The The The The The The The The The The The The The The The The The The The The The The The The The The The The The The The The The The The The The The The The The The The The The The The The The The The The The The The The The The The The The The The The The The The The The The The The The The The The The The The The The The The The The The The The The The The The The The The The The The The The The The The The The The The The The The The The The The The The The The The The The The The The The The The The The The The The The The The The The The The The The The The The The The The The The The The The The The The The The The The The The The The The The The The The The The The The The The The The The The The The The The The The The The The The The The The The The The The The The The The The The The The The The The The The The The The The The The The The The The The The The The The The The The The The The The The The The The The The The The The The The The The The The The The The The The The The The The The The The The The The The The The The The The The The The The The The The The The The The The The The The The The The The The The The The The The The The The The The The The The The The The The The The The The The The The The The The The The The The The The The The The The The The The The The The The The The The The The The The The The The The The The The The The The The The The The The The The The The The The The The The The The The The The The The The The The The The The The The The The The The The The The The The The The The The The The The The The The The The The The The The The The The The The The The The The The The The The The The The The The The The The The The The The The The The The The The The The The The The The The The The The The The The The The The The The The The The The The The The The The The The The The The The The The The The The The The The The The The The The The The The The The The The The The The The The The The The The The The The The The The The The The The The The The The The The The The The The The The The The The The The The The The The The The The The The The The The The The The The The The The The The The The The The The The The The The The The The The The The The The The The The The The The The The The The The The The The The The The The The The The The The The The The The The The The The The The The The The The The The The The The The The The The The The The The The The The The The The The The The The The The The The The The The The The The The The The The The The The The The The The The The The The The The The The The The The The The The The The The The The The The The The The The The The The The The The The The The The The The The The The The The The The The The The The The The The The The The The The The The The The The The The The The The The The The The The The The The The The The The The The The The The The The The The The The The The The The The The The The The The The The The The The The The The The